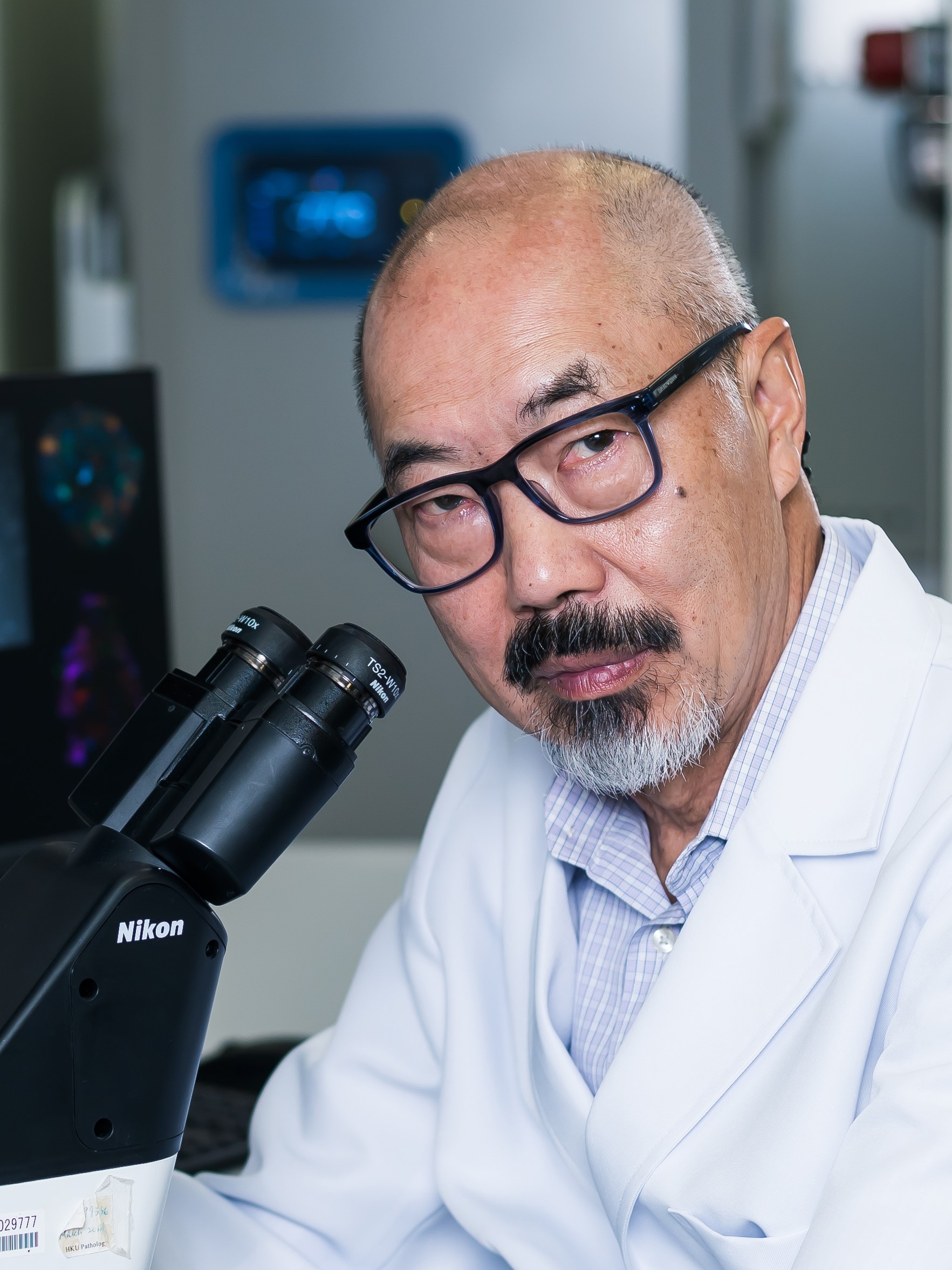 Professor
PhD, DSc (Hons), MD (hons) FRSC, FRS, OC
Research Description
My research interests centre on the genetics and molecular biology of cancer and the immune system. In 1984, I led the group that cloned the gene encoding the beta chain of the human T cell receptor. This discovery laid the ground work for our understanding of much of T cell biology and provided the basis for CAR-T technologies, treatments that have now been approved for leukemias and lymphomas. Subsequently, my lab concentrated on creating genetically engineered mouse strains to identify factors associated with susceptibility to immune disorders or various cancers. We used these mutant animals to elucidate the functions of numerous molecules involved in immune responses (eg. CD4, CD8, CD27, CD45, Lck), cell death (eg. TNF-R1, Apaf1, cytochrome c), and tumorigenesis (eg. PTEN, Brca1, Brca2, Chk2). In addition, we demonstrated that CTLA4 is a negative regulator of T cell activation, paving the way for the development of anti-CTLA4 immunotherapy agents now in clinical use. A more recent extension of our interest in immunotherapy is the development of T cell-based cancer diagnostics and therapeutics that can benefit a wide range of cancer patients. In collaboration with Professor Naoto Hirano of UHN, we are designing comprehensive cell-based screening systems that will facilitate treatments using specific TCRs, including TCR-T therapy.
An emerging interest for my team is the interconnection between the brain and the immune system. We have shown that the brain communicates with the immune system via T and B cells producing acetylcholine, a finding that has profound implications for future treatments of cancer and autoimmune or neurodegenerative diseases. Currently, we are investigating the potential roles of T and B cells and cholinergic signaling in regulating infectious diseases, autoimmunity, neurodegeneration and cancer.
Another focus for my group over the past few years has been the delineation of characteristics of cancer cells that allow them to thrive under conditions that kill normal cells. Two of these features are the various metabolic adaptations that favour tumour growth, and the ability of many advanced cancer cells to keep dividing despite their genomic instability and aneuploidy. Our goal is to identify vulnerabilities in these processes in tumour cells that can be exploited to develop novel cancer therapies. For example, we have demonstrated how IDH mutations are linked to leukemias, and have shown that small molecule inhibitors of the mutated enzymes can decrease tumour burden. These inhibitors are now FDA-approved for treatment of acute myeloblastic leukemias. Another example relates to the maintenance of cancer cell aneuploidy. We identified the mitotic kinases PLK4 and TTK as being critical for allowing aneuploid cancer cells to divide. We developed two novel agents that block the activities of these kinases and so show anti-cancer activity in advanced solid tumours. These agents are now in phase 2 clinical trials.
As indicated above, the work of my basic research team has frequently led to projects in the translational medicine arena, particularly in the areas of anti-cancer and immunotherapeutic drugs. From 1993-2002, I held the position of Vice-President of Research for Amgen Inc. In addition, over the past 3 decades, I have co-founded biotech start-up companies with the objective of capitalizing on important basic research discoveries. One of these start-ups, Agios Pharmaceuticals, has produced the two FDA-approved leukemia drugs cited above as well as several first-in-class small molecule compounds now in clinical trials for the treatment of cancer and certain genetic disorders.
My ultimate research goals are to guide my basic research team in defining as many tumour cell vulnerabilities as possible, and to facilitate the leveraging of this information by my associated biotech companies to produce novel and more effective treatments for cancers, neurodegenerative disorders, and infectious, inflammatory or autoimmune diseases.
Research Grants
Canadian Institutes of Health Research

Mak (PI)

09/01/15 – 08/31/22

Dissection of Tumorigenic and Inflammatory Signaling Pathways to Identify Novel Therapeutic Approaches

The Leukemia & Lymphoma Society

Mak (PI)

0/01/16 - 09/30/21

Therapeutic implications of altered epigenetics and DNA damage responses in hematologic disorders

Completed Research Support with no cost extension:

Stand Up To Cancer (AACR)

Mak (PI)

10/01/15 - 09/30/19

Translational development of novel drugs targeting tumor vulnerabilities

Department of Defense (USA)




Mak (PI)

09/01/16 – 08/31/19




HMGB1 and Its Isoforms as Biomarkers For Mineral Fiber Exposure and MM Detection
Awards and Honours
Gairdner Foundation International Award (Canada)
Emil von Behring Prize (Germany)
King Faisal International Prize for Medicine (Saudi Arabia)
loan Prize of the GM Cancer Foundation (USA)
Paul Ehrlich and Ludwig Darmstaedter Prize (Germany)
Novartis Immunology Prize (Switzerland)
Signal Transduction Society/Cell Communication & Signaling (STS/CCS) Honorary Medal(Germany)
Dr. Chew Wei Memorial Prize (Canada)
CIHR Gold Leaf Prize for Discovery (Canada)
Weinman Award (USA)
Officer of the Order of Canada and of the Order of Ontario
Foreign Associate of the National Academy of Sciences (USA)
Fellow of the American Association for Cancer Research (USA)
Fellow of the Royal Society (Canada)
Fellow of the Royal Society (U.K.)
Fellow of the Hong Kong Academy of Sciences (Hong Kong)
Fellow of the Academia Europea
Doctor Honoris Causa from a dozen universities, including:
Karolinska Institutet, Sweden

University of Zurich, Switzerland

University of Hong Kong, Hong Kong

University of Rome, Italy

Göttingen University, Germany

York University, Canada

St. Petersburg Institute of Technology, Russia

University of Western Ontario, Canada

Carleton University, Canada
Selected Publications
Complete List of Published Work in PubMed:
Yanagi, Y., Yoshikai, Y., Leggett, K., Clark, S.P., Aleksander, I. and Mak, T.W. (1984) A human T cell-specific cDNA clone encodes a protein having extensive homology to immunoglobulin chains. Nature 308: 145-149.
Lewis, W.H., Michalopoulos, E.E., Williams, D.L., Minden, M.D., and Mak, T.W. (1985) Breakpoints in the human T-cell antigen receptor a chain locus in two T-cell leukemia patients with chromosomal translocation. Nature 317: 544-546.
Shahinian, A., Pfeffer, K., Lee, K.P., Kundig, T.M., Kishihara, K., Wakeham, A., Kawai, K., Ohashi, P.S., Thompson, C.B., and Mak, T.W. (1993). Differential T cell costimulatory requirements in CD28-deficient mice. Science 261, 609-612.
Waterhouse, P., Penninger, J.M., Timms, E., Wakeham, A., Shahinian, A., Lee, K.P., Thompson, C.B., Griesser, H., and Mak, T.W. (1995). Lymphoproliferative disorders with early lethality in mice deficient in Ctla-4. Science 270, 985-988.
Hakem, R, de la Pompa, J., Sirard, C., Mo, R., Woo, M., Hakem, A., Wakeham, A., Potter, J., Reitmair, A., Billia, F., Firpo, E., Hui, C.C., Roberts, J., Rossant, J. and Mak, T.W. (1996) The tumor suppressor gene Brca1 is required for embryonic cellular proliferation in the mouse. Cell 85, 1009-1023.
Stambolic, V., Suzuki, A., de la Pompa, J.L., Brothers, G.M., Mirtsos, C., Sasaki, T., Ruland, J., Penninger, J.M., Siderovski, D.P., and Mak, T.W. (1998). Negative regulation of PKB/Akt-dependent cell survival by the tumor suppressor PTEN. Cell 95, 29-39.
Hirao, A., Kong, Y.Y., Matsuoka, S., Wakeham, A., Ruland, J., Yoshida, H., Liu, D., Elledge, S.J., and Mak, T.W. (2000). DNA damage-induced activation of p53 by the checkpoint kinase Chk2. Science 287, 1824-1827.
Ruland, J., Duncan, G.S., Elia, A., del Barco Barrantes, I., Nguyen, L., Plyte, S., Millar, D.G., Bouchard, D., Wakeham, A., Ohashi, P.S., et al. (2001). Bcl10 is a positive regulator of antigen receptor-induced activation of NF-kappaB and neural tube closure. Cell 104, 33-42.
Kim, R.H.,> Peters, M., Jang, Y., Shi, W., Pintilie, M., Fletcher, G.C., DeLuca, C., Liepa, J., Zhou, L., Snow, B., et al. (2005). DJ-1, a novel regulator of the tumor suppressor PTEN. Cancer Cell 7, 263-273.
Pellegrini, M.,T. Calzascia, J.G. Toe, S.P. Preston, A.E. Lin, A.R. Elford, A. Shahinian, P.A. Lang, K.S. Lang, M. Morre, B. Assouline, K. Lahl, T. Sparwasser, T.F. Tedder, J.H. Paik, R.A. DePinho, S. Basta, P.S. Ohashi, and T.W. Mak. (2011) IL-7 engages multiple mechanisms to overcome chronic viral infection and limit organ pathology. Cell 144 (4), 601-13. 753.
McIlwain, D.R., Lang, P.A., Maretzky, T., Hamada, K., Ohishi, K., Maney, S.K., Berger, T., Murthy, A., Duncan, G., Xu, H.C., Lang, K.S., Häussinger, D., Wakeham, A., Itie-Youten, A., Khokha, R., Ohashi, P.S., Blobel, C.P., and Mak, T.W. (2012) iRhom2 Regulation of TACE Controls TNF-Mediated Protection Against Listeria and Responses to LPS. Science 335: 229-232.
Sasaki, M., C.B. Knobbe, J.C. Munger, E.F. Lind, D. Brenner, A. Brustle, I.S. Harris, R. Holmes, A. Wakeham, J. Haight, A. You-Ten, W.Y. Li, S. Schalm, S.M. Su, C. Virtanen, G. Reifenberger, P.S. Ohashi, D.L. Barber, M.E. Figueroa, A. Melnick, J.C. Zuniga-Pflucker, and T.W. Mak. (2012) IDH1 (R132H) mutation increases murine haematopoietic progenitors and alters epigenetics. Nature 488 (7413), 656-9.
Mason, J.M., Lin, D. C-C., Wei, X., Che, Y., Yao, Y., Kiarash, R., Cescon, D.W., Fletcher, G.C., Awrey, D.E., Bray, M.R., Pan, G., and Mak, T.W. (2014) Functional Characterization of CFI-400945, a PLK4 Inhibitor, as a Potential Anticancer Agent. Cancer Cell 26: 163-176.
Inoue S, Li WY, Tseng A, Beerman I, Elia AJ, Bendall SC, Lemonnier F, Kron KJ, Cescon DW, Hao Z, Lind EF, Takayama N, Planello AC, Shen SY, Shih AH, Larsen DM, Li Q, Snow BE, Wakeham A, Haight J, Gorrini C, Bassi C, Thu KL, Murakami K, Elford AR, Ueda T, Straley K, Yen KE, Melino G, Cimmino L, Aifantis I, Levine RL, De Carvalho DD, Lupien M, Rossi DJ, Nolan GP, Cairns RA, Mak TW (2016) Mutant IDH1 Downregulates ATM and Alters DNA Repair and Sensitivity to DNA Damage Independent of TET2. Cancer Cell 30: 1-12.
Dominguez-Brauer C,Hao Z, Elia AJ, Fortin JM, Nechanitzky R, Brauer PM, Sheng Y, Mana MD, Chio II, Haight J, Pollett A, Cairns R, Tworzyanski L, Inoue S, Reardon C, Marques A, Silvester J, Cox MA, Wakeham A, Yilmaz OH, Sabatini DM, van Es JH, Clevers H, Sato T, Mak TW. (2016) Mule Regulates the Intestinal Stem Cell Niche via the Wnt Pathway and Targets EphB3 for Proteasomal and Lysosomal Degradation. Cell Stem Cell. 19(2):205-216
Mak, T.W., Grusdat, M., Duncan, G.S., Dostert, C., Nonnenmacher, Y., Cox, M., Binsfeld, C., Hao, Z., Bruestle, A., Itsumi, M., Jaeger, C., Chen, Y., Pinkenburg, O., Camara, B., Ollert, M., Bindslev-Jensen, C., Vasiliou, V., Gorrini, C., Lang, P.A., Lohoff, M., Harris, I.S., Hiller, K. and Brenner D. (2017) Glutathione Primes T cell Metabolism for Inflammation. Immunity 46: 675-689.
Cox M. A, Duncan G.S., Lin G.H.Y., Steinberg B.E., Yu L.X., Brenner D., Buckler L.N., Flick R., Elia A.J., Wakeham A.C., Nieman B., C. Dominguez-Brauer C., Elford A.R., Gill K.T., S.Kubli S.P., Haight J., Berge T., Ohashi P.S., Tracey K.J., Olofsson P.S. and Mak T.W. (2019). Choline acetyltransferase-expressing T cells are required to control chronic viral infection. Science 363(6427); 639-644
Fortin J, Tian R., Zarrabi I., Hill, G., Williams E., Sanchez-Duffhues G., Thorikay M., Ramachandran P., Siddaway R., Wong J.F., Wu A., Apuzzo L.N., Haight J., You-Ten A., Snow B.E., Wakeham A., Goldhamer D.J., Schramek D., Bullock A.N., Dijke P., Hawkins C., and Mak T.W. (2020) Mutant ACVR1 Arrests Glial Cell Differentiation to Drive Tumorigenesis in Pediatric Gliomas. Cancer Cell.; 37(3):308-323