Innovations
Pathology leads the way in diversity of learning formats
The institution of an integrated medical curriculum with the adoption of problem-based learning (PBL) in the Department of Pathology has meant a drastic reduction in didactic sessions, creating space for student-directed learning.
Lectures in the first 2 years of the pathology curriculum were reduced to core material, with students learning principles and basic systems-based pathology. To enhance learning, diverse formats are offered, including lectures, practicals, PBL tutorials, web-based virtual microscopy and online interactive case-based exercises.
Many teachers in our department have held positions of leadership in undergraduate medical education and have been pivotal in the design and implementation of new tutorial cases in every module and in the introduction to health and disease blocks. As medically qualified graduates, our teachers are ideally positioned to see the overall picture of pathological science in the curriculum and work with basic science faculty to translate this perspective into meaningful cases. Their excellence has been recognized with both faculty and university level awards for teaching.
Our department also takes an active role in the planning and factual input of the curriculum. Members of staff serve as directors of the MBBS curriculum committee and the Bau Institute of Medical and Health Sciences Education (BIMHSE).
Our contribution to the final years of the MBBS curriculum
With the realigned 130 MBBS Curriculum and introduction of an enrichment year, our department was invited to contribute to the teaching of pathology for the MBBS IV Clinical Foundation Block. This involves the teaching of chemical pathology, forensic pathology, immunology, transplantation and immunogenetics, as well as advanced diagnostic techniques in pathology. The latter includes the principles and application of molecular genetic analysis, case studies in molecular genetics and special phenotypic investigations.
The clinical application of molecular genetic testing is an important contribution of pathology to personalized patient management. This has been made possible due to rapid advances in molecular sciences which have revolutionized approaches to diagnosis, treatment and management of many human diseases.
To enhance students' understanding of the role and relevance of pathology to clinical practice, we have developed the whole-class seminars Understanding Anatomical Pathology Practice, Principles and Applications of Immunohistochemistry, and Investigation of Hematological Disorders.
Strengthening of chemical pathology teaching
Chemical pathology is a clinical subspecialty registered by The Medical Council of Hong Kong. Its teaching at undergraduate level is of the utmost importance, enabling medical students to apply chemical pathology knowledge to clinical decision-making, interpretation of test results, and to selection of laboratory tests for real-time patient care. Since a regular review of the curriculum revealed deficiencies in the teaching of chemical pathology to undergraduates, Professor Lam Ching-Wan led the introduction of new modes of delivery in the form of lectures and workshops across the MBBS years with the help of a dedicated team of specialist honorary teachers. Professor Lam also established The Roche Prize in Chemical Pathology for medical students scoring the highest mark in the subject.
Autopsy observations
During the academic year MBBS students are scheduled to visit a public mortuary in small groups where they observe autopsies. This experience also enables students to learn about gross pathology and the system of death investigation and certification in Hong Kong.
Our contribution to the final years of the MBBS curriculum
Microscopy utilizes the microscope as a tool for viewing, exploring and understanding what can be visualized in the microscopic world. However, light microscopy is difficult to master, and many students make mistakes in viewing slides under high power magnification and out of context. With the reduction in the amount of time allocated to histology and pathology instruction, exposure to microscopy has declined, depriving students of an opportunity to engage with sufficient depth in a learning activity that can enrich their understanding of morphology and the function of tissues in health and disease.
Our department has set up a Core Imaging Facility based on the Aperio ScanScope System which provides high quality microscope scanning and web-based virtual microscopy. Using this system, glass microscopic slides are scanned and viewed on a computer window browser as virtual slides. These images can be stored on DVDs or accessed over the Internet. The virtual images are completely maneuverable in any direction, and thus the computer becomes the microscope.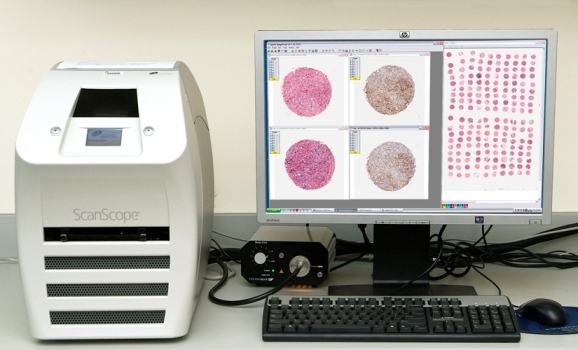 This innovative system has been used in the teaching of pathology practical sessions since 2008, and a survey of its application has shown that more than 90% of students agree that it facilitates more effective learning. Students find the images clearer, the demonstration process smoother and orientation of the slides easier, helping them understand pathological features better. Virtual microscopy thus alters how students learn and interact with course material, enhancing the learning process.
Numerous requests were made by students for access to the materials online and use of the system for anatomy-histology practical sessions and demonstration of gross specimens. In response, with the support of a development fund grant, a dedicated server was acquired for joint hosting of pathology and anatomy teaching slides and images and to allow students online access to the teaching material. This has provided opportunities for further innovative curriculum development and the cultivation of a student-centered learning environment, in line with the HKU strategic theme of providing a rich virtual learning environment that complements other pedagogies.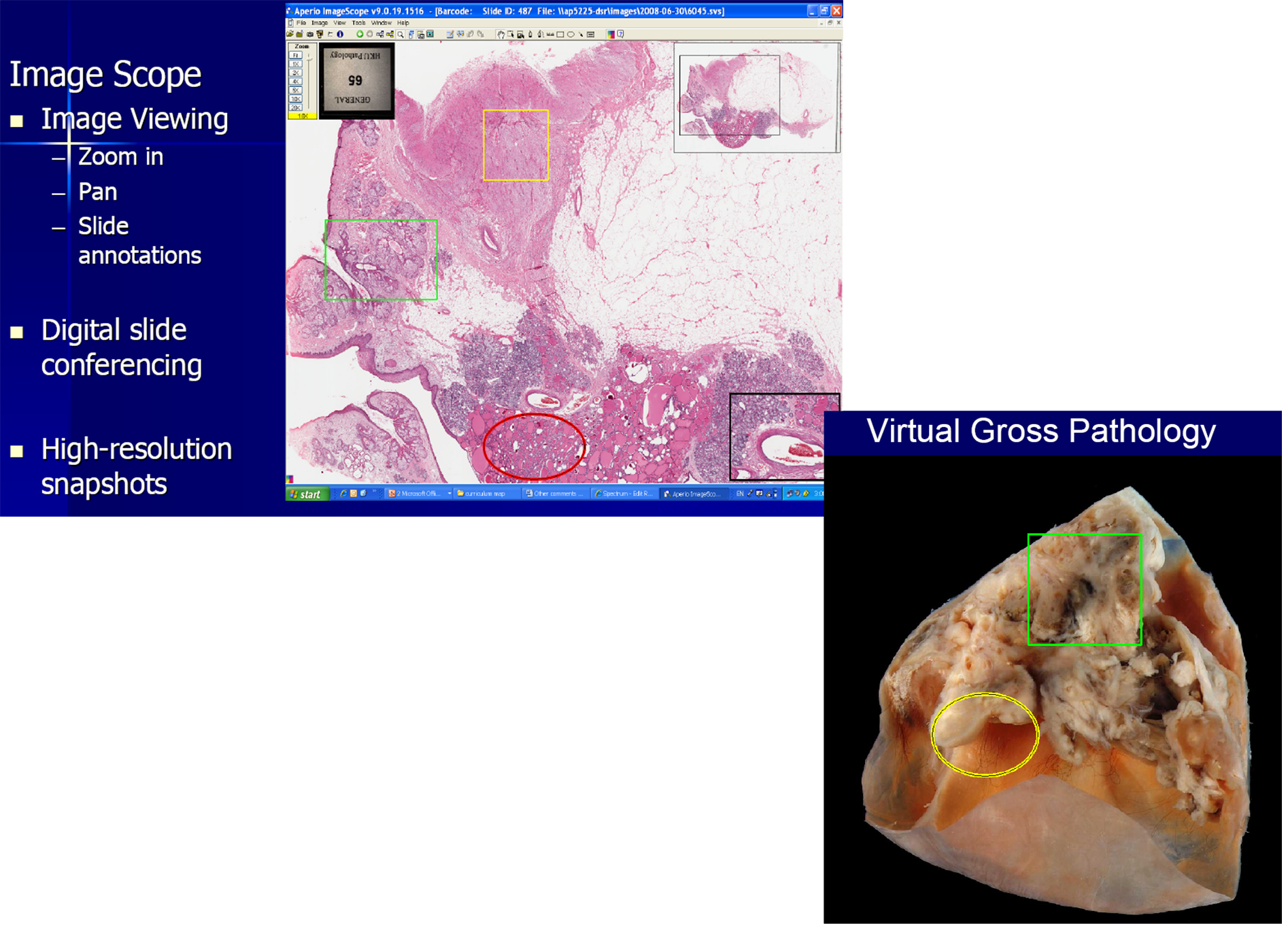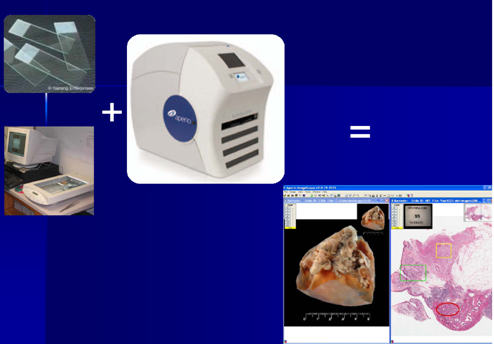 With support from the Center for the Enhancement of Teaching and Learning (CETL), we have also combined the use of digital pathology with a Moodle platform as the interface for interactive clinico-pathological case exercises for students.
Expanding the interactive learning experience beyond a classroom setting, these are case-based exercises presenting short clinical vignettes, with visual demonstration of pertinent pathologic features linked to the Aperio system followed by a series of questions designed to cover the important teaching points for each disease entity. By integrating pathological entities within clinical vignettes, students have a better opportunity to appreciate and understand the relevance of pathology in the clinical setting and to integrate multidisciplinary aspects in the learning of pathology.
These cases complement the PBL approach and specifically support the disciplinary knowledge of pathology and its application in medicine through provision of clinical data and the application of skills of visual interpretation.
This innovative form of pathology teaching was given specific commendation by a visiting team from the Hong Kong Medical Council during the HKU medical education and training accreditation exercise in November 2013.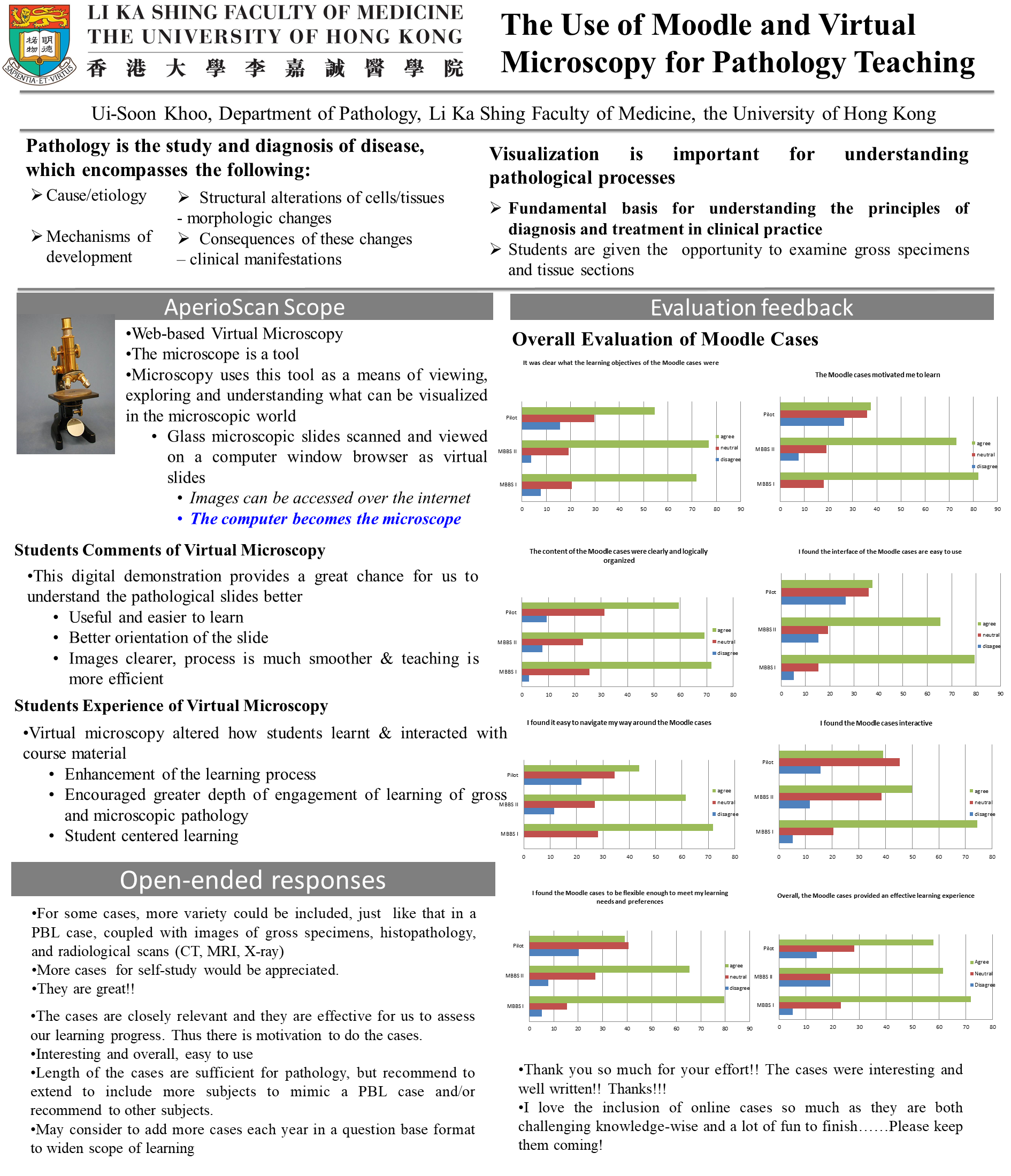 Bachelor of Biomedical Sciences
The Bachelor of Biomedical Sciences degree was introduced by the Faculty of Medicine in 2012. The objective of this program is to provide students with core knowledge across a broad range of biomedical science disciplines to prepare them for a variety of opportunities in academia, industry and other career paths. The Department of Pathology plays an important role in this mission by facilitating student experiential learning in the application of biomedical sciences for better understanding and the diagnosis and management of human diseases. Our department's clinical input underlies the uniqueness of this program amongst similar programs in Hong Kong. Two core courses, The Mechanisms and Pathology of Human Diseases and Molecular Diagnostics Laboratory, together cover a range of topics that enable students to understand the basic pathogenetic mechanisms of diseases in different organ systems, as well as the principles and practice of key molecular diagnostic tests employed in the advanced management of patients.
Looking to the future
Senior students are now distributed in many allied hospitals where honorary teachers have a valuable role to play in offering teaching sessions, options to observe cut-ups, and clinical-pathological meetings. Laboratory attendance enables these students to better appreciate the importance of diagnostic pathologists in patient care and, overall, the direct contribution of the pathology profession to medical care. With regards to public perception, we endeavour to improve the image of pathologists, finding opportunities to make the general public better aware of the contribution of our expertise in many aspects of medicine.
The Common Core Curriculum
Resulting from the 2012 implementation of the new undergraduate curriculum at HKU, students are required to undertake the Common Core, a series of six courses across four Areas of Inquiry:
Scientific and Technological Literacy Humanities
Global Issues
China: Culture, State and Society
Teachers in our department are actively engaged in developing multidisciplinary programs to serve the needs of this new initiative.